In honor of the end of summer and the relaunch of my blog I am giving all of you a chance to win one my best selling feather hair extensions (see photo below). There are many ways to enter and there is no purchase necessary to be eligible to win!

Each extension is handcrafted by me using high quality natural red chinchilla feathers, black glass beads and silver chain and attaches to the hair securely using a silver alligator clip.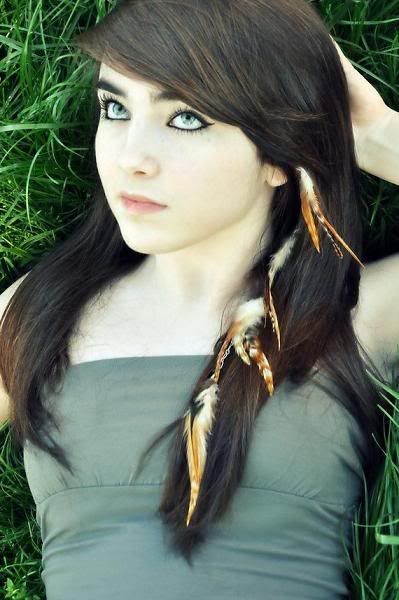 You DO NOT need to do all of the things below to enter. Doing just one will suffice, however doing more things will equate to more entries! :)
1. Follow my blog or follow me on twitter (@peacefrogdesign) and comment below that you have done so (1 entry).
2. Tell me your favorite item in my Etsy shop (
http://peacefrogdesigns.etsy.com
) in a comment below (1 entry).
3. Favorite my shop on Etsy and provide proof you have done so in a comment below (1 entry).
4. Blog or Tweet about my giveaway or post about it on Facebook and then provide proof you have done so in a comment below (1 entry).
5. Purchase something from my Etsy shop and post the link to the transaction in a comment below (5 entries).
PLEASE be sure to post separate comments for each thing you have done and include contact information in each comment so that I can inform you if you win
(email address, twitter name or Etsy name will all suffice).
Each comment will be numbered, and the winner will be chosen through a random number generator. Entries will be accepted until 11:59 pm (Eastern Standard Time) on August 31st 2011 and the winner will be chosen soon after. Giveaway is open to everyone worldwide and you do not need to have a blogger account to comment below.
Want to buy a Tribal Raven Feather Hair Extension of your very own?
CLICK HERE TO SHOP NOW!
Good luck and check back next month to check out the launch of my 365 feather project!
<3
Froggy